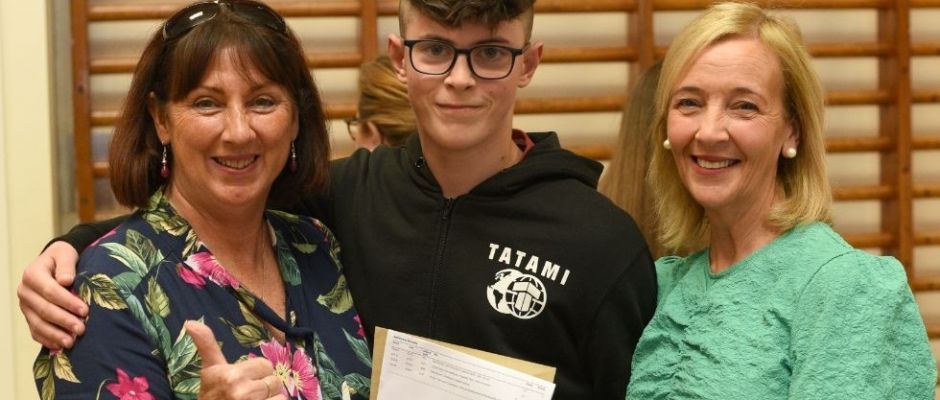 WELCOME
Our Lady of Lourdes School ethos enables us to give children an education and a belief that they are beautiful as a child of God. As a community we strive to do little things with great love realising that no single act of love will ever be lost.
The school continues to attract pupils from across the ability range. Boys and girls of all abilities are thriving in our distinct small-school ethos and in our vision of enabling each individual pupil to bring light and dignity to the world – no child held back nor left behind.
We are proud of our pupils; their appearance, their conduct, their respect for themselves, others and for the school property. These are all sources of great encouragement in the present day and bring hope for the future.
Prospective Pupils and Parents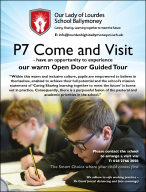 Prospective Pupils and Parents
We would like to welcome prospective P6/P7 pupils and parents to our school. Please come and visit and have an opportunity to experience our warm Open Door Guided Tour.
Please contact the school to arrange a visit.
School Holidays 2023 - 2024
Our Lady of Lourdes School Ballymoney
SCHOOL IMPROVEMENT DAYS & HOLIDAYS 2023/24

Term One
Year 8 Pupil Induction Thursday 31 August 2023
Year 8 & 12 Pupils Friday 1 September 2023
Year 9, 10 & 11 Pupils Monday 4 September 2023
All Pupils: Tuesday 5 September 2023
School Improvement Day: Friday 27 October 2023
Halloween Break: Monday 30 October 2023 to Friday 3 November 2023
Pupils return: Monday 6 November 2023
Christmas Holidays Friday 22 December 2023 to Tuesday 2 January 2024
Term Two
School Improvement Day: Wednesday 3 January 2024
Pupils return: Thursday 4 January 2024
School Improvement Day: Friday 9 February 2024
Mid-Term Monday 12 February to Friday 16 February 2024
Pupils return: Monday 19 February 2024
St. Patrick's Day Holiday Monday 18 March 2024
School Improvement Day: Tuesday 19 March 2024
Easter Holidays: Thursday 28 March 2024 to Friday 5 April 2024
Term Three
Pupils return: Monday 8 April 2024
May Day Bank Holiday Monday 6 May 2024
May Day Bank Holiday Monday 27 May 2024
School Ends: Friday 28 June 2024
Our Lady of Lourdes School, Castle St, Ballymoney, Co.Antrim, N.Ireland BT53 6JX
Telephone: 028 2766 2050 / 028 2766 5079