English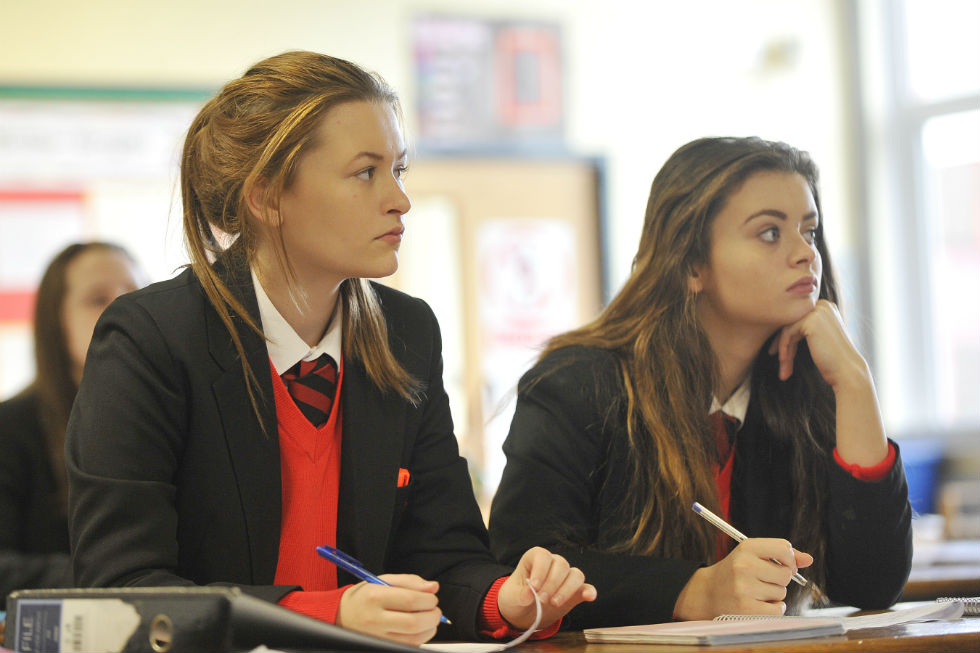 Staff
Miss S Coyles (HoD)
Miss Á Hartley
Aims
The English Department at Our Lady of Lourdes aims to ensure that every pupil is developed into an effective and confident communicator, both orally and in written form. We endeavour to nurture in each pupil an appreciation and love of the English Language and English Literature. This is a Department where the Achievements & Standards are outstanding.
Our pupils take great pride in their work. We have created and cultivated respectful learning environments where listening is paramount. We watch our pupils grow in confidence as effective and highly competent communicators. Speaking and listening is natural and organic with easy movement into pairs and groups. There is a clear and sustained focus on writing within our Department. We as a Department pride ourselves on the Quality of Provision as solid and professional and hence, GCSE performance in English Language is significantly above the NI norm . We have high expectations and aspirations for our students and are determined to sustain our high standards.
We have a holistic belief which is seamless where all of the processes benefit the pupils & teachers underpinning the ethos & culture of this English Department at Our Lady of Lourdes.
Specific Aims:
To develop the ability of pupils to express themselves effectively, accurately and creatively in spoken and written form
To ensure that pupils understand and respond imaginatively to what they read, hear and see in a variety of forms
To introduce pupils to a wide range of literary texts and genres and foster an appreciation of literature
To develop a love of reading and a growing awareness of the writer's language skills
To teach and encourage literacy skills in English which will be used across the curriculum
To increase pupils' awareness of moral and social issues and encourage pupils to respect the point of view of others through the teaching of English
To motivate pupils to achieve their best in a well structured and caring environment where pupils' individual targets are set and met
To embed ICT skills within the context of Communication.
Key Stage 3 At Key Stage 3, pupils follow a varied programme which develops all three skill areas; Reading, Writing and Speaking & Listening. In each year throughout the key stage, pupils are provided the opportunity to study prose, poetry, drama and media. Attention is also paid to developing and embedding literacy skills throughout Years 8, 9 & 10. All pupils are working towards the Northern Ireland Requirements and Levels of Progression in Communication at the end of this Key Stage.
Key Stage 4 At Key Stage 4 English Language is a compulsory subject. GCSE English Literature is offered as an option at the end of KS3. The awarding body for the GCSE examinations is CCEA.
English Language: Externally Assessed Components Unit 1: 1 hour 30 min examination [20%] Section A: Writing - Personal writing Section B: Reading - Multi-modal texts (comparison/cross reference)
Unit 2: 1 hour 30 min examination [20%] Section A: Writing – Functional writing Section B: Reading - Non-fiction (1 stimulus)
Controlled Assessment Unit 3: Speaking and Listening [20%] 3 tasks:
Individual presentation
Group interaction
Role play
Unit 4: Studying Spoken and Written Language and Writing Creatively [40%] 3 tasks:
4.1 The Study of Spoken Language
4.2 The Study of Written Language
4.3 Writing Creatively
Externally Assessed Components Unit 1: The Study of Prose [25%] 1 hour examination (closed book) – Of Mice and Men, John Steinbeck
Unit 2: The Study of Drama and Poetry [50%] 2 hour examination Section A: The Study of Drama - Blood Brothers(open book) Section B: The Study of Poetry - Heaney and Hardy (open book) Section C: Response to an Unseen Poetry
Controlled Assessment Unit 3: The Study of Linked Texts [25%] 2 part task in response to Shakespeare's Macbeth and Hardy's The Withered Arm
The Library
The library at Our Lady of Lourdes is an inherent part not only of the English Department, but of the entire school community. In this thriving and busy library, pupils are provided with recommended reads, take part in book competitions and participate in library club. The library is also home to Paired and Guided Reading. Year 8 English classes have one library period per week and Years 9 & 10 visit the library every fortnight. During these classes, pupils are encouraged and enabled to complete a 'Reading Challenge' which introduces them to new genres and authors and fosters a love of reading led by Mrs Maxine Curran, our Librarian.
Writing competitions Our Lady of Lourdes' pupils are continually encouraged to develop and hone their writing skills by participating in short story, poetry and essay writing competitions. Last year, many of our Key Stage 3 pupils had their poems published in the Poetry Ireland Regional Publication.
Visiting Authors The Our Lady of Lourdes Library often hosts visiting authors and poets who inspire our pupils through talks and readings and progress their writing and creative skills through interactive workshops. We will keep you updated regarding our forthcoming 'Teapots and Tales' event.
Theatre Visits The English Department at Our Lady of Lourdes furthers pupils' love and understanding of literature through theatre visits, allowing pupils to see drama 'come to life'.
Our Lady of Lourdes School, Castle St, Ballymoney, Co.Antrim, N.Ireland BT53 6JX
Telephone: 028 2766 2050 / 028 2766 5079