Mathematics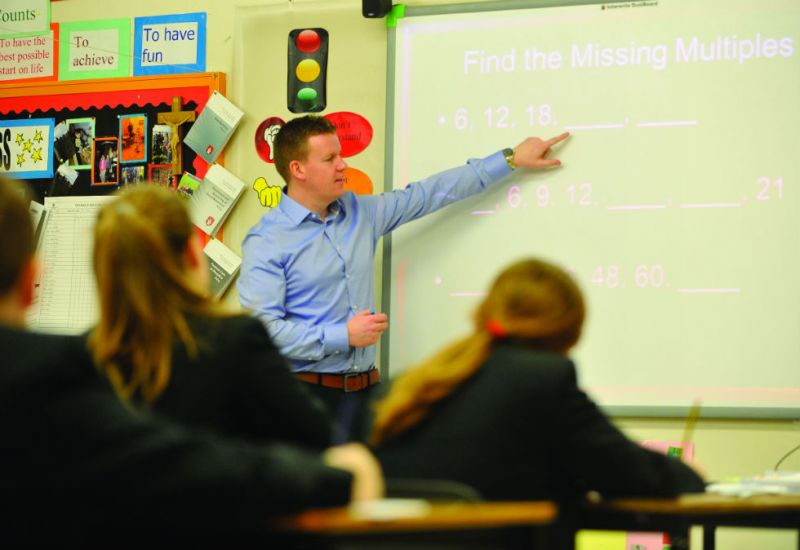 Teachers in Department
Mrs P Warke
Mr S Forrest
Mr R Mullan
Mrs C Dunlop
Department Aims
Aims:
To promote students' curiosity, interest and appreciation of mathematics.
To develop students' familiarity with appropriate mathematical concepts, principles, methods and vocabulary.
To develop students' understanding of mathematics in its broadest context and to see how it relates to all aspects of their lives.
To encourage students to develop personal qualities such as being creative, problem-solving, working with others and self-management.
To enable all students to have equal access to mathematics and to develop their confidence through success.
To allow students to develop transferable skills and informed opinions about their mathematics in order to allow them to improve their employability skills.
Key Stage 3
The Revised Curriculum is used as a basic core for the Mathematics Schemes of Work. Teachers encourage students to recall and apply their knowledge and skills in familiar and unfamiliar situations and students are taught to follow both verbal and written instructions accurately. The Revised Curriculum allows pupils to use Mathematics in everyday situations and builds on the connections with other subjects. Pupils are assessed in their learning through Continuous Monitoring and both Christmas and Summer Assessments. In addition pupils will be assessed for Using Mathematics using tasks in line with statutory guidelines. Throughout Key Stage 3 each pupil's performance is tracked and suitable support is available to those who are identified as requiring it.
Key Stage 4
The department follows the CCEA GCSE Mathematics Specification. Pupils are banded at the end of Year 10 and will complete either T2 or T3 modules in Year 11. They will then complete modules T5 or T6 in Year 12 to gain their full qualification. This combination may be awarded Grades A to G but all pupils have access to at least Grade C. The module combinations are flexible enabling students to achieve their potential.
Careers within your subject.
Mathematics is a requirement for almost every training course or career path. It is required for finance careers such as Accountancy or Payroll Management, construction careers such as Quantity Surveying and Engineering or marketing careers such as Market Research and Management Accounting.
Whatever career path you decide to follow you will require skills learnt in Mathematics. It is also an essential life skill to balance household budgets or for anyone who will be self-employed.
Those who wish to take Mathematics to a higher level should check out the careers on the link below:
https://www.math.ucdavis.edu/~kouba/MathJobs.html
Other Information – Rewards, Events or Activities
All our classrooms are equipped with an ICT interactive board or a digital projector. This allows the use of ICT to enhance pupils' learning. There are also a range of materials to allow for practical lessons as well as games to further embed number skills.
The Mathematics Department wishes to encourage all students to appreciate the joy of Mathematics and as a result we participate in a range of other activities including:
Visiting the Mathemagician
Sentinus puzzle days
IZAK 9
Online World Maths Days activities.
Our Lady of Lourdes School, Castle St, Ballymoney, Co.Antrim, N.Ireland BT53 6JX
Telephone: 028 2766 2050 / 028 2766 5079